Day #12: A tribute to the opening
A few days and a lot of snow has gone down the road since the opening last Friday. The evening was a blast and a great pleasure. We were overwhelmed by the amount of people visiting Digital Fragments at PLATOON Kunsthalle. The vibe was great, the music was great and the feedback we received was also great and very much appreciated.
Mica Potocnik from PLATOON was so nice to shoot and cut a video from that very night: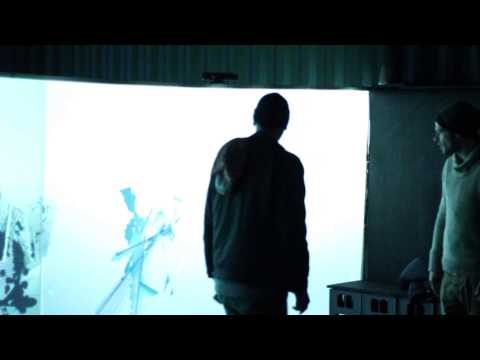 We observed people dancing, jumping and acting around in front of our setup and experienced a wide range of feedback from the system. From smooth performance with instant reaction and beautiful frozen fragment formations to long delays and system break downs.
We set up Digital Fragments for two more days during this week and shot some documentation material ourselves which is now about to be edited.
Since then we managed to fix a few bugs concerning the memory issue, preventing fast and continuous movements from crashing it. We also observed the need for a clearer outlining of the interactive zone; now and then people didn't quite realize that they were hanging out in this zone unintentionally and thus confused our poor tracker with too many skeletons from which he couldn't decide which to choose.
During the next few weeks we aim to eat a lot of Christmas cookies and submit applications for media art festivals. We would love to set up Digital Fragments a few more times, besides our next event on the 26th of January@ ReSource003 P2P Vorspiel Transmediale, perhaps already in a slightly modified version and again in PLATOON´s Kunsthalle.
Thank you PLATOON for the great support and for this unique container life experience.